Frequently Asked Questions
Who

is 360-Access?
360-Access is a service offered by Abator. Abator is a disability/women owned and operated technology company organized in the Commonwealth of Pennsylvania with a mission to educate and expand the accessible world one doorway at a time.
What is accessible?
Accessible or accessibility is a short hand reference to the physical structure of public spaces, specifically with regard to how easily the space can be used by People with Disabilities (aka PWD). Accessibility issues can be as simple as accessible parking or as complicated as how much space is allowed between a grab-bar and the wall. The goal of 360-Access is to document the unique features of public spaces so members of the disability community can find reliable information about where they can easily access events, goods, and services of interest to them.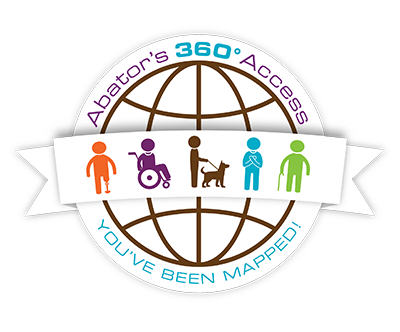 What is an 360-Access seal?
The seal is a recognizable emblem used to inform consumers about the unique accessibility features of a facility.
This seal is based on the participant's completion of a survey built on current ADA standard accessibility criteria and documents the key accessibility components of that business's facility. Once complete and submitted, 360-Access reviews the material, issues a seal and makes select information available to members of the disability community and visitors through app/website search functions. We  promote business sponsors organization through visitor bureaus, chambers of commerce, consumer groups and community organizations.
360-Access's goal is the universal recognition of this seal in promoting easily available, objective information about restaurants, lodging and retail outlets that cater to consumers' mobility and disability needs.
Who should get a 360-Access seal?
Any business offering consumer goods or services that wants to capture a share of the disability community market should consider getting a seal. Internationally the disability market represents an annual disposable income of $1 trillion -- $490 billion in the US alone. When including friends, family and associates of this community's members, add another 2.3 billion people who control an additional incremental $6.9 trillion in annual disposable income. These community members visit groceries, hotels, restaurants, retail stores, car dealerships, florists, gas stations, movie and entertainment venues, stadiums, playgrounds, parks … any place that able-bodied consumers go, we want to go, as well!
Why get 360-Access seal?
54 million Americans live with a disability. The disability community has, at minimum, a discretionary spending budget of $490 billion. We are a misunderstood market due to a lack of accurate information about who we are and what we need. The People with Disability (PWD) community has had to band together, share information and rely on other PWDs to find information about accessible facilities.
A 360-Access seal offers a business a direct communications channel to demonstrate its commitment to the disability population by detailing how accessible and disability friendly it is. Once our community members know about a business's commitment to them as a consumer group, that business will gain a loyal customer base.
In our community we say … "nothing about us without us". That's why 360-Access owners and advisory board is made up of PWDs, key disability leaders and disability service organizations.
How does 360-Access work?
360-Access is a web portal where business sponsors and participating partners complete a simple survey documenting their accessibility factors. Once the survey is reviewed and accepted into 360-Access database, it is available to anyone using our app's search functions (mobile devices, computers, etc.) to easily locate information about any 360-Access associated business - its facilities, goods, and services.
360-Access also partners with disability organizations throughout the country to help market the 360-Access associated business sponsor information to their constituent members. Through these strategic partnerships with access to vast member bases, 360-Access offers a unique marketing opportunity to target this audience and provide information to these consumers. And, of special note, a percentage of every 360-Access sale will be donated to disability organizations.
Am I too small to get a seal?
Absolutely not!  People who have disabilities shop just like everybody else and they love spending their money in their hometowns or in their communities. The question is what business wouldn't want a piece of $490 billion in this US spending?
How do I know my information is secure and protected?
We've taken all the industry standard precautions for computer hardware, software and operating systems.  Because we're serious, our security features protect your data in a variety of ways. We do not publish or share the addresses of our server facility locations. The servers are maintained in physically secure locations with limited access. These facilities are manned 24x7, monitored by video cameras and protected by alarm systems.  And, the software used by 360-Access makes it virtually impossible to relate the data and files to you or your business.  Essentially, your information can't be used by anyone else.
How difficult and time consuming is this process?
Creating an account and profile for members, sponsors or partners is a very simple process. The time and effort to complete a facility certification application will depend on the size and complexity of your facility.
What about ADA compliance?
360-Access is not an ADA Compliance professional or a law firm and may not perform services performed by such professionals. 360-Access and its services are not substitutes for the advice or services of an ADA compliance professional or attorney. We can, however, refer you to an ADA Specialist.
How do I pay for this?
There is a list of the prices based on business size that will become available as the survey is taken. You can also email [email protected] to request a quote.
Payment is made using the secure website payment processing screen. Most major credit cards are accepted.
I have my seal, now what?
Tell everyone ... mention your association with 360-Access at every opportunity and remind your customers that in addition to offering superior goods or services, you are also easily accessible.
Request an ADA Specialist